Dive into the festive season
Poolside Hero
Bubba Changing Mat
Our new changing mat provides a warm, cozy surface for your baby to lay on for a quick change. Especially designed for use before and after Water Babies lessons, it's also great for putting them on while you're jumping safely into the pool. Now featuring our friendly Bubba the Whale 🐳
Be #Swimvincible
Finn Floatboard
Keep practicing those tiger arms with the new Water Babies swim float, now featuring a new Oceans of Imagination themed design. Follow Finn towards Cloudfish Cove and learn everything you need about your swimming strokes.
Up to 70% Off
Clearance Sale
Don't miss out on our reduced to clear section, featuring items for the whole family. 👀 From UV Sunsuits to float jackets and funky clothing for your little one, plus our super fluffy onesies for grown-ups. Grab a bargain while stock lasts!
Aquasphere Goggles & Swim Masks 🥽
Dive into crystal-clear waters with Aquasphere's premium goggles and masks. Perfect for young children and adults alike. See clearly, swim comfortably!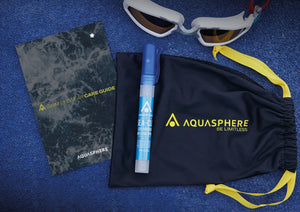 Limited time
Free Goggle Care Kit
Get a free care kit with any Aquasphere goggles or swim masks. Only while stock lasts!
Get Yours Now
Tested in lessons!
The Happy Nappy
Our Happy Nappy is the most reliable swim nappy in the world with the safest, most leak-free fit.
Shop happy nappies
After Swim Onesies
Nothing like a fleece-lined waterproof onesie to keep your little one warm on the journey home after your Water Babies lesson.
Shop Waterproof Onesies
Mix & Match
Browse our catalogue by themes to create your own sets of matching swimwear and swimming accessories for your little one.
Shop By Patterns
Taking quality seriously
Our Water Babies range is backed by rigorous research and meticulous quality standards so that you and your little one can enjoy the water at home or on holiday, as well as in lessons.
Let customers speak for us